You are here

About
About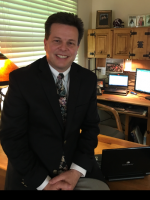 Dean Waldron
LPL Branch Manager
LPL Registered Principal
A Financial Advisor Should Truly Care for their clients as a "Person", not just "An Account". Showing compassion, and interest in you and your family, knowing your hobbies and interests, as well as understanding your goals in life as well as financially, should be priority.
For the past 18 years, that has been my goal. I find that taking a Holistic approach to the financial planning process produces the most satisfying results, and makes the Advisor/Client experience much more enjoyable.
Having been married to my beautiful wife Lisa for more than 30 years, and raising 2 wonderful children, who are now both married and starting families of their own, has not only brought great joy, but also great experience and insight into life and finances. Seeing, and experiencing the "ups and downs" of life as well as those of financial goals and markets, has allowed me to have a great deal of understanding and compassion when it comes to assisting our clients. In a very uncertain world, I believe this to be invaluable.
As a family, we have spent thousands of hours over the years assisting others through both church and civic activities. Being able to give back to others has brought us the greatest joys in life.
If you are a current client, we are so thankful to have you on board. If you are currently searching for an advisor who truly cares about you as a person, and not just an account, I would love to hear from you!
God Bless!